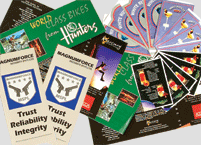 Time and versatility have become premium commodities with
products, developing to meet changing consumer demands at an extraordinary pace. Being a revolutionary method of printing – direct from disk (mac or PC) or hard copy, this method of printing eliminates the need for conventional films or plates.
It is a method ideal for the short run, where high quality, personalized, fast service is essential – being perfect for the output of variable text documents such as mail shots, price lists, manuals, handbooks, posters, catalogues, directories, leaflets and many many more!

With our Digital Offset Indigo ® Turbostream press, Sri Lanka now provides the high quality that is demanded at the international level. Indigo's Digital Offset Colour technology provides solutions for the commercial and industrial printing markets.
Capabilities:
Short Run Offset 1-1500 pieces
Personalisation - Variable Data (each piece can have different text and images)
11" x 17" plus bleed printing area
Full Duplexing (2 sided printing)
Standard: 80# - 100# (text or cover)
Material : Variable transparency and paper thickness , 100gsm – 300gsm
4 Colour printing
Digital printing is most suitable for:



Catalogues – We provide laminations, embossing, personalization, short run printing, designing, packing and delivery with no size restrictions.




Posters – Printing on any material in the range of 100-300gsm, we provide fast, reliable service with no minimum size restriction and maximum print size up to and including 22" x 17". Design may be done by our own qualified and competent staff or made available in digital format by client. A maximum width of 24" can be accommodated.



Banners, Hoardings & Stickers – Printing done on both the Encad Pigment machine offering a maximum width of 6ft per print with no restrictions on length. Larger hoarding are can be accommodated. No restrictions on colours, sizes or shapes of stickers.



CD, Video & Cassette – Gloss and matt stickers are utilized, with the labels compressed to the CD precisely. No restrictions on batch orders, sizes, shapes, personalising, materials & colours. We will work around your requirements!